Logistic Services Terminal
is a part of BEAST – Global Tool Company Sp. z o.o.,
… but the company is all about people, who are its greatest value. We are a strong team of experienced, conscientious, reliable professionals who are devoted to their job.
We are the first and leading provider of logistic services in the Lublin region, oriented at warehouse services for small trading companies. We manage also regional warehouses for the manufacturers. We have been cooperating with some clients for more than 10 years. This is the best recommendation for our integrity, reliability and quick response.
Take the exit #13 from Lublin ring (S12), direction Center, you can find us at left side of road 82 after 4 minutes driving towards Lublin. Our warehouses contain large maneuvering areas, and our facility has a 24-hour physical security. As a Customs broker, "trusted entity" of the Customs Service, we are AEO certified and provide our Customs Warehouse to clients.
Advantages of our strategic location:
an hour drive to the EU border,
at the intersection of important trade routes,
near the Lublin bypass,
we specialize in completion of shipments from multiple places and trans-shipping of "cross-dock" type for importers and exporters of goods to Ukraine.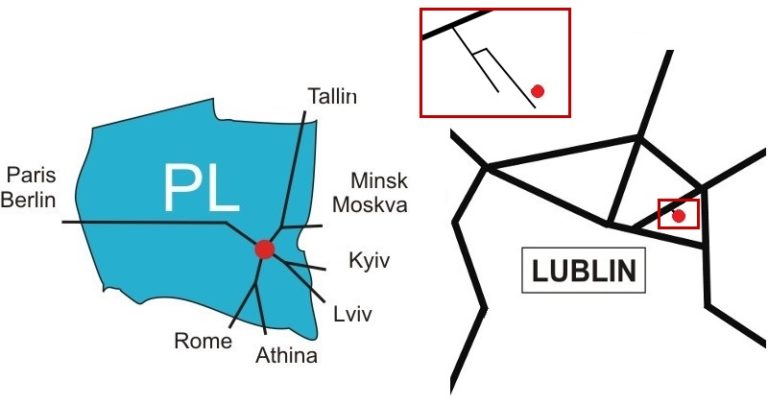 We perfectly know the specificity of cooperation with clients from over the eastern border of Poland. We understand that it is not possible to precisely estimate the time spent on the border checkpoint, therefore we treat advice notes in a pretty flexible manner. We know that even the smallest shortcomings in documents may constitute a major problem at customs declaration of goods in Ukraine or Belarus. Therefore, we offer our knowledge and several years' experience in trans-border logistics and cooperation with the Customs Service. We realize the influence that proper use of loading space has on general costs of transport, therefore our clients do not "run empty".
We are open and communicative. Most of our employees is at least bilingual. We speak Russian and English. Moreover, we can communicate in Ukrainian, Slovak, Czech, German, Italian, Spanish, French, Dutch, Bulgarian and Serbo-Croatian. We are a proven and synergistic team of people for whom nothing is impossible. Any questions?
Call or write to us. We will solve your problem!
Free WiFi for clients.